Divided opinions as Derry prepares for City of Culture 2013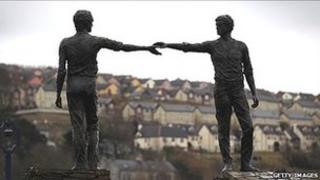 It is a city known for its poets, politicians and its past - and famous too for struggling with division.
Indeed, Londonderry, or Derry, is the city with two names - and many opinions.
It made the news again this week when the council stepped in to take over marketing the campaign for the UK City of Culture 2013.
That led to a public row and recriminations - both at odds with the vision of unity and prosperity, as the city uses its hard-won cultural title to rebrand its image at home and abroad.
"This is not a united city," said commentator Stephen Price.
"It never has been historically - and that is something the City of Culture year needs to address and to explore."
Derry is up for the challenge, key players at the City Hotel's James Bond-themed party said this week.
"There really will be something for everyone to avail," said Aoife Thomas from the Derry Visitor and Convention Bureau.
"From your standard pop culture right through to your high brow opera events, arts, literature, music - a full year of cultural celebration. We are very, very excited."
Claire McDaid, project manager with the City Centre Management Company, brushed aside the problems to date.
"I think as a city we are learning finally to come together and work as one: one city, one voice," she said.
But over in the Bogside, outside the city's walls, there is a feeling of alienation by local artists.
The Bogside Artists, whose murals attract visitors from around the world, complain about an historic lack of support.
Among their grievances is the closure of their gallery - and a sense of being ignored.
Tom Kelly said that the Bogside Artists' murals, despite attracting thousands of visitors, is not featured on the 2013 initiative's website.
"If you go on the UK City of Culture website you will see cultural champions on there," he said.
"And there are some very worthy champions that we celebrate and enjoy - Brian Friel in particular - but one thing is for sure you 'll not find the Bogside murals or the Bogside artists on there."
In turn, Kevin Hasson questions how Sinn Fein can support an initiative that titles Derry as a UK city.
"It is a contradiction for people calling themselves republicans and endorsing the UK City of Culture," he said.
"Absolutely."
Sinn Fein's initial concerns about the UK title have given way to support for the benefits.
Maeve McLaughlin, MLA, says it is time for positivity.
"There is a united Team Derry approach both from the Culture Company and Derry City Council," she said.
The idea of a team may have faded over at the headquarters of the Culture Company given that its marketing budget has been taken over by the city council, amid threats of legal action.
Despite a desire by many to move on, commentator Stephen Price said this row will not be swept aside.
"Although some people are saying this is really a storm in a tea cup, I don't really think so on the eve of the launch of the city of culture event," he said.
"It's just about to be launched not just in Ireland but worldwide.
"It's not a very good thing to have happened. "To say the least it's poor management."
The manager of the Waterside Theatre company, Iain Barr, points to delays in a firm letter of offer to fund two proposed arts projects.
He suggests marketing is a problem and cites complaints about a lack of branding at the city's airport as visitors arrive.
Turner Prize
"For me when the bid was launched it was launched as Derry/Londonderry UK City of Culture and that's the branding I used," he added.
"But other people have issues in terms of what the city is called - even down as far as what language the branding is in.
"It's a sensitive subject and my sympathies go out to anybody who has to brand an event with 16 different logos."
According to Mr Barr, success will be measured in how the arts are able to flourish post-2013.
He is concerned that the council is already reviewing service agreements for 2014.
"The year 2013 will take care of itself," he said.
"The big thing that has to come out of the City of Culture has to be 2014 and beyond, the legacy that it leaves.
"The arts infrastructure in Derry has to be left in a much much better position."
The programme launch is set for 25 October.
The city has already attracted the prestigious Turner Prize among other events. But there is still no firm name for a headline act at a major concert.
Whatever happens, expect music in the Derry air. Perfect harmony however may take more time.