Hate crime: How effective is Northern Ireland legislation?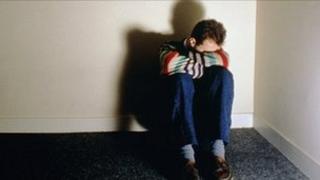 Racism, homophobia, sectarianism are just three motivations for hate crime. There are also crimes against disabled people and the transgender community.
Northern Ireland has had hate crime legislation to help protect vulnerable groups since 2004.
But a new report casts doubt on how effective the legislation is.
The Institute for Conflict Research, based in Belfast, compiled figures which show 13,655 hate motivated incidents were reported to the police in the last five years.
That includes everything from serious cases like murder through to damage to property and name-calling.
The report found that out of almost 14,000 complaints only 12 cases were successfully prosecuted using the 2004 legislation.
That doesn't mean the crimes aren't being prosecuted at all.
It means the hate element is being dropped somewhere along the line - and the crime then goes to court as murder or assault without the hate motivation being included.
So why does it matter if some still result in a conviction?
The Northern Ireland Association for the Care and Resettlement of Offenders (NIACRO) commissioned the report.
Perception
Its director of adult services, Pat Conway, is worried hate crime is not being taken seriously enough throughout the criminal justice system: "I think they need to take the views of victims and the experience of victims much more seriously.
"I think it's good that in the past five years there were 13 or 14,000 people who reported what they perceived as hate crime attacks to the police and the police recorded that. But I think the recording of those incidents needs to be drilled down and examined a lot more.
"The criminal justice system right across the board needs to ask if they need to be taking hate-motivated crime more seriously than they have done to date."
The report poses a series of questions - is there a difference in how the police investigate hate crime? Are victims less willing to work with the police? Is hate crime treated as less of priority?
They also compare how often hate crime legislation is used in other jurisdictions and Northern Ireland falls short of Scotland, England and Wales.
The Public Prosecution Service (PPS) says there's a high burden of proof in hate crime legislation and it's difficult to show beyond reasonable doubt that a crime was motivated by hatred.
Ronnie McCarey, temporary assistant senior director in charge of case work, said: "These are dreadful crimes and the PPS is absolutely committed to making sure where the evidence is available those who committed those offences are brought before the courts to be dealt with."
"I looked at research in relation to 2011 and the police sent us in excess of 750 cases. We prosecuted in 86% of those cases."
But he said they will look again at their procedures.
"All of those cases that you're talking about, all those cases that are giving rise to concern in that area are going to be individually examined to see what has happened," he said.
"Maybe it's a recording issue, maybe we weren't able to prove beyond reasonable doubt that the offence was aggravated by hostility, or maybe it's a case of where we should have said it was aggravated by hostility and didn't do it - but until we look at those cases we're not going to be able to be sure - so that's a process we're undertaking at the moment."
Justice Minister David Ford has also promised a review of the figures.