Thousands attend County Cavan rally for Sean Quinn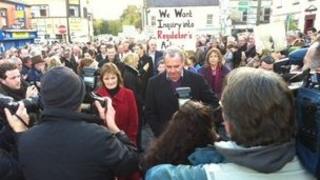 Thousands of people have attended a rally in Ballyconnell, County Cavan, in support of bankrupt businessman Sean Quinn and his family.
It was organised by a group called Concerned Irish Citizens.
At the height of his success, Mr Quinn, from Fermanagh, was the richest man in Ireland, controlling businesses worth billions of pounds.
In April 2011, control of his business empire passed into the hands of the Irish Bank Resolution Corporation.
Addressing the crowd on Sunday, Mr Quinn's daughter Ciara said she and her siblings were "the true and rightful owners" of the Quinn Group companies.
Hundreds of people attended a previous rally for Mr Quinn in Ballyconnell at the end of July.