Joe Brolly kidney transplant to Shane Finnegan fails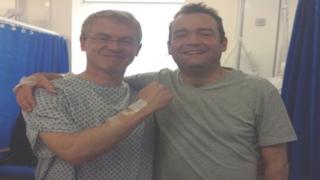 A kidney donated by former Derry GAA player Joe Brolly to fellow coach Shane Finnegan has been removed due to medical complications following the transplant.
Mr Finnegan received a kidney from Mr Brolly during an operation at Guys Hospital in London on 3 October.
In a statement Belfast Trust said after initially functioning well, complications had developed.
The kidney was removed from Mr Finnegan on 12 October.
"This is a rare and unfortunate occurrence after kidney transplantation, (most kidneys from a living donor work successfully for many years)," the statement said.
"Whilst both families are naturally devastated, they are hugely encouraged by the massive wave of goodwill and support from the community and the resultant increased public awareness of the critical importance of organ donation.
"Mr Finnegan is confident that with the continued support of family and friends he will be home soon and able to resume a full family and work life."
The trust said both men were very keen to support its campaign for organ donation and had agreed to spearhead a drive to increase the number of donors.
"For both men and their families, this has been a life affirming experience," the statement added.
Mr Finnegan, who works for a Belfast public relations firm, had been waiting for a transplant for over six years.
Mr Brolly and Mr Finnegan both coach an under-10 side at St Brigid's GAC in Belfast, where both men's sons play.