Two China visits possible for Northern Ireland ministers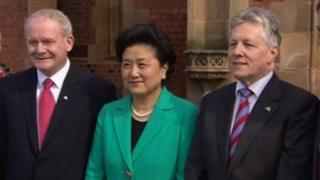 There are strong indications that the Northern Ireland first and deputy first ministers may make two visits to China, not one as originally planned.
Peter Robinson and Martin McGuinness are due to accompany business, agriculture and university representatives there next month.
Plans to also meet political leaders are now on hold because a meeting of the ruling Communist Party's congress is taking place.
A second visit may occur in the spring.
The meeting of the ruling Communist Party's congress had been expected to take place in August or September.
But after complex behind-the-scene manoeuvres, the party congress has now been scheduled to start on 8 November, clashing with the Northern Ireland trade mission.
The first and deputy first ministers were invited to visit Beijing by Liu Yandong, the high-ranking Chinese stateswoman who visited Northern Ireland in April.
But they have now been advised by Chinese-based diplomats that it would be wise to take up the invitation, probably next spring, after the lengthy process of leadership transition in China has been completed.
Stormont officials argue that no trip to China with such high level access is a waste.
They point out that last year, Scottish delegations made seven or eight visits to China.