Transgender community's appeal over NI hate crime laws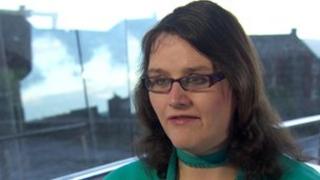 A vulnerable group of people, the transgender community, is excluded from hate crime laws in Northern Ireland.
The police have been recording incidents against them since 2007, but there is no law to prosecute anyone who targets them because of their identity.
Stormont Justice Minister David Ford has promised a review of the implementation of hate crime laws following a report which questioned how effective they are.
England, Wales and Scotland have all amended their hate crime laws to include transgender.
The transgender community in Northern Ireland is small, but growing.
Transgender is when someone feels as though their visible gender does not match how they feel inside.
It is not a mental illness but a biological condition influenced by pre-natal development.
Vicky Garrett, from Saintfield, County Down, always knew she was "different".
"About 18 years ago I came out as gay, as a gay man, and not realising in my own head I had confused sexual orientation and gender identity," Vicky said.
"I wasn't even aware that there was an issue there.
"The more I asked questions about transgender the more I realised actually this is me - I had completely misread the way I'm feeling inside.
"I realised it was my own gender I was unhappy with so I took a huge step and went to my GP."
Two years ago, Victoria changed her name and started "transition", the process of treatment to change her physical gender.
She says she has been lucky, her family and friends have been extremely supportive.
However, others have not been so tolerant.
"A few years ago I was in Belfast city centre, eight guys in two cars boxed me in - I called the police and they told me to stay in the car but I was absolutely terrified," Vicky said.
"One of the men then exposed himself.
Respect
"There was a prosecution but it was a terrible experience, some of the questions I was asked in court were awful.
"I was then asked how I would like the punishment to proceed.
"I couldn't believe it."
Vicky would like to see the police and the justice system take transgender more seriously.
"They have to realise that transphobic hate crimes are a very real thing," Vicky said.
"They may not be reported, there may not be the paperwork there but it doesn't mean it's any less real.
"It's just the people it happens to don't necessarily have the courage to put themselves forward.
"Transgender people want to be like anyone else, get up and go to work and be active members of society and as such we want to be treated with the respect everyone else gets.
"We don't want to get people hollering at us in the middle of the street and really slandering us and defaming us every step of the way - and trying to go through a court system that didn't want to know how to handle it."