Jordanian Paralympian sex charges: Evidence being compiled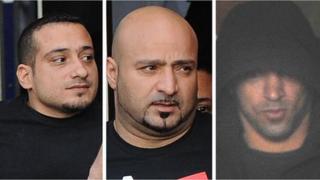 Police are still compiling and analysing evidence against three members of the Jordanian Paralympic squad charged with sex offences in Northern Ireland, a court has heard.
Faisal Hammash, Omar Sami Qaradhi and Motaz Al-Junadi were charged with the offences in Antrim. They deny the charges.
The men were subsequently withdrawn from the Paralympic Games in London.
On Wednesday, a PPS lawyer said police are awaiting the results of tests.
The three men, two of whom compete in wheelchairs, are all members of the Jordanian Paralympics power-lifting team.
Faisal Hammash, 35, faces two counts of causing a child to engage in sexual activity.
Excused
Omar Sami Qaradhi, 31, is charged with three counts of sexual assault and one of voyeurism. At least two of the alleged assaults were against children.
Motaz Al-Junadi, 45, faces one charge of sexual assault. All the offences are said to have taken place between 16 and 20 August.
The three were released on combined bail and sureties of £5,500 each when they first appeared in court in August.
All three men were excused from appearing at Tuesday's brief hearing at Antrim Magistrate's Court.
The case is due in court again on 27 November.
The District Judge Robert Alcorn agreed to the three accused being absent from that appearance as well.