Smithwick Tribunal extension motions to go before Irish Parliament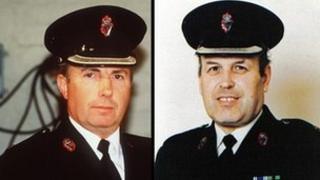 The Irish government has approved a proposal by the Irish justice minister which could amend the terms of reference of the Smithwick Tribunal.
The tribunal chairman had asked the government to extend the deadline for his final report to July 2013.
Judge Peter Smithwick said it was due to the medical condition of a key witness.
He also wants to examine "highly relevant intelligence material from security agencies in Northern Ireland".
Irish Justice Minister Alan Shatter said it was important that the work of the tribunal was "completed fully".
He said he would "shortly put before the Dáil and Seanad, motions to extend the conclusion date for the tribunal to 31 July, 2013".
He said the motions would also require the tribunal to submit interim reports by 31 January and 30 April, 2013.
The tribunal is investigating allegations of garda collusion in the IRA murders of two senior RUC officers.
Chief Supt Harry Breen and Supt Bob Buchanan were killed in an IRA ambush in South Armagh only minutes after leaving a meeting in Dundalk garda station on 20 March 1989.
The Dublin-based tribunal was established in 2005 and has been hearing evidence in public since June of last year.
It had been due to issue its final report last November but was given an extension to early 2012.
A second extension was approved earlier this summer by Mr Shatter, with a deadline of 31 October.
The tribunal was last week told that a key witness, Owen Corrigan, will not be medically fit to give evidence for up to five months.
Mr Corrigan, a retired detective garda sergeant, is one of three former Dundalk-based sergeants who have been granted legal representation at the tribunal.
The others are Finbarr Hickey and Leo Colton. All three deny allegations of collusion.
In his letter to the Irish government, the tribunal chairman also cited new PSNI intelligence material as grounds for an extension of the deadline for his final report to 31 July, 2013.
The intelligence, which was given to the tribunal in July and August of this year, claimed that an Irish police officer did pass information about the meeting involving the RUC officers to the IRA but that officer was not one of the three being examined by the tribunal.
It also claimed that the ''fourth garda'' received a substantial amount of money from the IRA and passed intelligence to them for years.
The tribunal chairman said he anticipated that any hearings arising from the new intelligence would be concluded by the end of this year.