Sean Quinn Jr loses appeal over jailing for contempt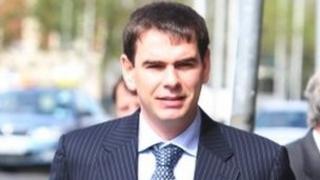 Sean Quinn Jr has lost his appeal against his conviction and imprisonment for contempt of court.
He was jailed in July for breaching orders aimed at stopping him interfering with Quinn International Property Group assets.
But on Wednesday, the Irish Supreme Court found he should not have been jailed indefinitely.
That means he could be freed on Friday unless another court order is produced by the former Anglo-Irish Bank.
Mr Quinn is the son of Ireland's former richest man, Sean Quinn Sr.
In July, Mr Quinn Jr, along with his father and cousin Peter Darragh Quinn, were all found to be in contempt for putting millions of pounds worth of international property beyond the former Anglo Irish Bank's reach.
The Anglo Irish bank was bailed out by Irish taxpayers and is now controlled by the Irish Bank Resolution Corporation (IBRC).
Sean Quinn Jr and Peter Darragh Quinn were given an indefinite jail sentence, but initially for three months, or until the contempt was purged and the family start co-operating with the IBRC.
Peter Darragh Quinn avoided prison by not being in court and remaining in Northern Ireland.
Sean Quinn Sr was spared a jail sentence to allow him to cooperate with the IBRC.
Taxpayers
The bank has given no indication that he has done so.
On Wednesday, the Supreme Court by a 4-1 majority upheld Judge Dunne on finding Sean Quinn Jr guilty of contempt and his three-month sentence.
But the court ruled that he should not be jailed indefinitely.
The IBRC claims the Quinns owe it about £2bn and is trying to recover the money from their property assets on behalf of Irish taxpayers.
The Quinns have admitted moving assets beyond the reach of IBRC, but claim they took no action after a High Court injunction issued on 27 June 2011 ordering them to stop.
At the height of his success, Mr Quinn, from Fermanagh, was the 12th richest man in the UK. The family controlled businesses worth billions of pounds and employed thousands of people.