Restorative justice talks to be held at Dublin committee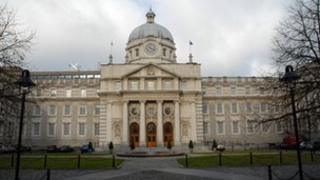 Restorative justice programmes in Northern Ireland will be discussed at a meeting in Dublin later.
It is being held by the Dail's Joint Committee on the Implementation of the Good Friday Agreement.
Representatives of Community Restorative Justice Ireland and Northern Ireland Alternatives will attend.
They provide services including mediation and intensive restorative support in NI.
Committee chairman Joe McHugh TD said the meeting would allow it to "assess this innovative alternative to conventional justice".
Restorative justice is defined as an approach to justice that focuses on the needs of the victims and the offenders, as well as the involved community, "instead of satisfying abstract legal principles or punishing the offender".
"This human and non-punitive approach of restorative justice to address issues of conflict, crime and anti-social behaviour has considerable support across republican and loyalist communities," Mr McHugh said.