BBC NI 'considering Titanic Quarter move'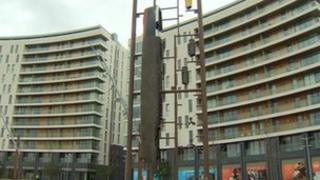 The chief executive of the Titanic Quarter property company has said that BBC Northern Ireland is considering moving to the east Belfast development.
David Gavaghan made the remarks in an Ulster Business magazine interview.
However, Mr Gavaghan said that the broadcaster has not yet taken a decision.
Currently the BBC occupies two sites in Belfast city centre - Broadcasting House on Ormeau Avenue and Blackstaff House on Great Victoria Street.
In a statement, BBC Northern Ireland said it was "carrying out a feasibility study looking at a wide range of options which include the redevelopment of the existing site and the possibility of relocation to other sites.
"No decisions have been taken yet."
Mr Gavaghan said he had recently visited the BBC's new MediaCity site in Salford and hoped to create a similar "creative campus" at Titanic Quarter.
He added that improving the area's digital infrastructure, including the establishment of a data centre, would be required.
"Getting the data centre here is a big thing which we're working hard on that would allow us to build up the whole creative media campus beyond the BBC if it does relocate - and we don't know the timing on that," he told the magazine.
The BBC is in the middle of a major review of its property portfolio; as well as the development in Salford it recently sold TV Centre in west London and moved many staff to an expanded Broadcasting House.
The next stage of the programme is due to involve developments in Bristol, Cardiff and Belfast.
It is understood that BBC is examining a number of options in Belfast.
One complicating factor is that the Northern Ireland property crash means it could be difficult to find a buyer for Broadcasting House.