NI corporation tax: 'Final meeting' on devolving powers to Stormont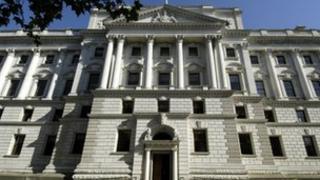 Northern Ireland ministers are due to hold their final meeting with Treasury officials on Thursday to discuss the devolution of corporation tax.
Local politicians and business leaders have campaigned for NI to be granted the power to set its own corporation tax rate in a bid to boost the economy.
The main rate of corporation tax in the UK is 24% - almost twice that of the Irish Republic where it is just 12.5%.
However, there are concerns over how much it would cost to devolve the tax.
Treasury officials have said that if local politicians were to be given the power to lower the rate in Northern Ireland, any tax cut is likely to be accompanied by a proportionate reduction in Stormont's block grant - the money it receives from central government.
Jobs
It has been estimated that the changes could mean an initial cut of more than £400m a year to the Stormont budget, rising to about £700m annually in just a few years' time.
However, a lower corporation tax rate could also generate hundreds of millions of pounds in new revenue.
Campaigners have argued it would make Northern Ireland a more attractive place to set up a business, thus creating new jobs and staving off competition from the Republic of Ireland.
Corporation tax is levied on the profits made by limited companies, including money they make from trade and investments.
Other types of organisations also have to pay the tax, including some clubs, societies, co-operatives, and charities.