PSNI urged to wear body cameras to tackle domestic abuse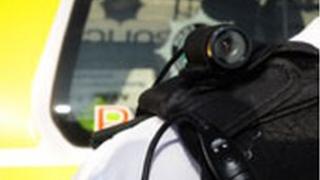 Police officers responding to domestic abuse incidents have been urged to wear body cameras to record evidence "as a matter of routine" in Northern Ireland.
The call was made by the NI Policing Board's human rights and professional standards committee which is chaired by the SDLP MLA, Conall McDevitt.
He said the evidence recorded by officers who first attend such calls can be "critical" for prosecutions.
The body cameras are already in use by PSNI officers in some local districts.
Following a successful trial in Carrickfergus, County Antrim in 2009, the cameras were introduced for officers working in the Lisburn area.
The technology is known as a body worn digital recording system, or 'head cam'.
The camera records both visual and audio footage and are positioned on a police officer's body to show what they are seeing, doing and saying during an operation.
Difficult
It can be used to capture any injuries or damage witnessed by the officer when they arrive at the scene of a crime.
In a statement on behalf of the NIPB committee, Mr McDevitt said: "The law allows for a domestic abuse prosecution to proceed even if the victim withdraws their complaint or is not prepared to cooperate with the police.
"In such situations the evidence gathered by police during first attendance at the incident can be can be critical and the use of 'head cams' could greatly assist in the prosecution of abusers."
He added that while the board had been advised that the technology was already being employed by PSNI officers for a range of operational duties, he said the committee "would like to see it being used as a matter of routine across all areas in domestic abuse cases".
"We know how difficult it can be for victims to give evidence against perpetrators in court so if there are ways of police helping prosecutions succeed then these must be actioned," he said.