Cash seized by Revenue at Dublin airport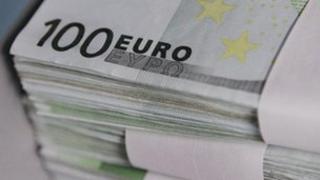 Officers from the Irish Revenue's Customs Service at Dublin airport seized 40,000 euros when they stopped two men from Northern Ireland.
The men, aged 29 and 30, were stopped and searched as they were about to board a flight to Malaga in Spain on Wednesday morning.
The discovery was made by officers carrying out an intelligence-led operation.
The cash was concealed in the men's carry-on baggage.
Officers in Dublin Circuit Court were granted a three-month detention order in both cases by Judge Patricia McNamara in order to carry out further investigations.