Sean Quinn Sr court case is adjourned in Dublin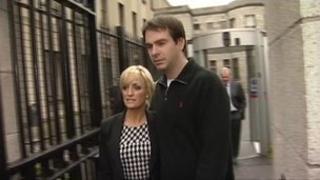 The case of Sean Quinn Sr, once Ireland's richest man, has been adjourned in the High Court in Dublin.
Mr Quinn Sr, had initially been spared jail to give him the opportunity to purge a contempt of court ruling.
On Friday, the Irish Bank Resolution Corporation (IBRC) said "significant new material" had emerged which required consideration by the courts.
His son Sean Quinn Jr, previously jailed for contempt, has been released.
On Friday, new Belfast-based lawyers for Mr Quinn Sr said the former billionaire from County Fermanagh was keen to purge his contempt and was willing to work with the IBRC, the former Anglo Irish Bank.
They asked the court for more time to prepare a defence for Mr Quinn Sr.
Lawyers for IBRC, told the court there had still been no meaningful co-operation from Sean Quinn Sr to comply with orders of the court to reverse the asset stripping of Quinn companies.
The court was told "nothing had been done and no steps had been taken".
The cases of Mr Quinn Sr, his son Sean Quinn Jr, and nephew Peter Darragh Quinn, were to be reviewed on Friday.
The court heard the Quinns have written to IBRC, asking if mediation would be possible.
On Wednesday, Sean Quinn Jr lost a Supreme Court appeal against a three-month sentence for contempt of court.
Property empire
The judge has to decide whether Mr Quinn Sr has co-operated with the IBRC in recovering assets.
On Friday, the judge decided to adjourn the case for two weeks.
At the High Court at the end of July, Miss Justice Elizabeth Dunne found the three Quinns had defied court orders by asset stripping.
She said their evidence had been "evasive, incredible and untruthful".
They were found to have put some of their international property empire, valued at around half a billion euros, beyond the reach of the IBRC.
Judge Dunne said she had come to the conclusion they would say or do anything to hold onto their properties, mainly in Russia, Ukraine and India, and their rental incomes.
Peter Darragh Quinn did not show up at the July hearing and has avoided jail by remaining in Northern Ireland.
On Wednesday, the Supreme Court rejected Sean Quinn Jr's appeal both against the finding of contempt against him and the initial three-month sentence he is serving.
Judge Dunne had jailed him indefinitely in July with the sentence to be reviewed after three months.
However, the Supreme Court on Wednesday also found that he should not have been jailed indefinitely.