Sean Quinn's jailing reminiscent of Greek tragedy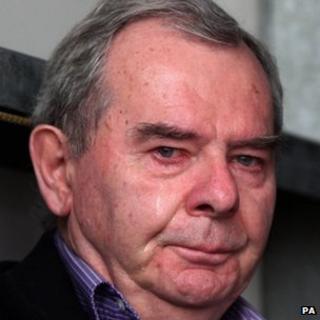 The inevitability of Sean Quinn's jailing at the hands of Justice Dunne, does not diminish the jaw-dropping shock at seeing him taken from the Four Courts to Mountjoy jail in a prison van.
People talk about the ongoing Quinn saga, but this tale is much more in the mould of Greek tragedy than Norse myth.
The fates decreed that the man who once was Ireland's richest, would end up in prison, because all the other elements of Greek tragedy were there from the beginning.
The first is hamartia - a tragic human flaw.
In Sean Quinn's case it was his exceptional greed. He was keenly aware of this character flaw, but instead saw it at as a positive.
He famously told an audience at the height of his power: "I suppose I was always very greedy. I was never happy with what we had, and I was always looking for new opportunities."
Greed served him well up to a point - fashioning a manufacturing giant from the very sand that lay beneath his family farm. It was tangible success with tangible products - you can't get more concrete than, well, concrete.
But as he sought those new opportunities his greed began to take him towards the intangible - insurance, shares, derivatives - where the seeds of his destruction were sown.
Debts
When he placed the biggest financial bet in Irish history - on the bank he then loved, Anglo Irish - he was already Ireland's richest man. Had his bet come good he would have placed himself between Roman Abramovich and the Duke of Westminster as the UK's third richest person with a fortune of £8bn or more.
But it didn't come good. It went bad. Very bad. And he turned to the bank he had bet on for help.
Either it lent him the money to pay his debts, or they were both going down together. He mortgaged his empire to the tune of 2.8bn euros.
It wasn't just the biggest financial bet in Irish history, it was the riskiest. That level of risk suggests a fundamental misunderstanding of the intangible Contracts for Difference that comprised the bet.
CFDs allow buyers to put a deposit down to gain control over shares - therefore with, say, 20% of the money they get all the increase in value on 100% of the shares should they go up. But if they go down, they suffer 100% of the loss.
And as more facts emerge about the history of under-provisioning and risk-taking at Quinn Insurance, it is hard not to conclude that Sean Quinn should have taken that most basic business advice to heart and stuck to what he knew.
A chain of events unfolded leading to the insurance business being taken from him by the regulator and ultimately the entire company as Anglo sought security over its debts.
Dramatic
But it's worth remembering that this didn't happen overnight. Sean Quinn was only deposed in April 2011 - years after the fateful bet. And it was during this period that the border tycoon displayed the another key element of Greek tragedy - hubris.
A senior businessman who knows Quinn told me that during the fraught negotiations with the bank that preceded his downfall, Sean Quinn confided in him.
This confidante was shocked by his attitude: "They'll never take it away from me. I'm too big for that", he reportedly said.
But Ireland had changed. It wasn't just regime change at the bank. It had been all change at the regulatory authorities and dramatic change in government too.
The rules of the business game in Ireland were not the same and Sean Quinn didn't see it. He over-negotiated on the terms of his exit and lost it all as a result.
Next, a combination of greed and anger propelled Sean Quinn to take the actions that ultimately led to the catastrophe he is experiencing today. His decision to sanction, support and add his signature to a plan to take half a billion euros worth of assets back from the bank that now owned them was his most ill-judged move to date.
The Quinn family argues that the "big case" regarding the legality of Anglo loans needs to be determined first before any action is taken to recover disputed assets.
But until a court says otherwise - and none has - those assets are only disputed in the minds of the Quinns and their supporters. Taking them now, and the income that flows from them, is illegal. And to do so on the basis of a future court decision finding in your favour is self-contradictory and absurd.
Emotions
So Sean Quinn goes to jail for contempt of court and could yet face more serious criminal charges that would keep him there for some time.
It is a truly tragic fall from power. There were distressing scenes in court as the former billionaire was taken away. Supporters and Sean Quinn crying real tears. But there is no sign of any awareness of how alien his actions appear to the vast majority of his fellow Irish citizens. Perhaps that will come.
And as for that wider population: does the imprisonment of the mighty Quinn and the faltering recovery of those international assets that now belong to the state-owned bank, bring catharsis, the healing and purging of emotions that the Greek writers would have liked?
That too, remains an unanswered question. This tragedy has a number of further acts to play out.