E. coli outbreak: 44 cases are confirmed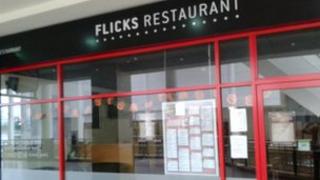 The Public Health Agency (PHA) has said there are now 44 confirmed cases and 144 probable cases following an E. coli outbreak linked to a Belfast restaurant.
They said this was the figure at 15:00 BST on Friday.
Fifteen people have been hospitalised since the start of this month's food poisoning outbreak at Flicks restaurant in the Cityside complex.
It is understood most of them have gone home.
On Thursday it was confirmed that the type of E. coli 0157 linked to Flicks restaurant this month is a different strain than four cases reported there in August.
The PHA said the four cases in August which were linked to the restaurant were investigated thoroughly at the time and all tests on the restaurant were negative.
Further environmental health inspections were conducted, it added, all of which were satisfactory, and enhanced surveillance to monitor for cases was also put in place.
It said the current cases came to light through that enhanced monitoring.
There were no cases of E. coli associated with Flicks restaurant in the six-week period between the end of August and 9 October, the PHA said.
The agency said that had the restaurant not voluntarily closed after the first case of the October outbreak was discovered, it would have been required to do so.
Dr Carolyn Harper, director of public health, PHA, said: "The PHA has activated a full public health response to this outbreak and the situation is being managed and monitored very closely.
"It is vital that everyone follows some simple rules to prevent the spread of E. coli - not just those with symptoms, but everyone should wash their hands after using the toilet and before eating or preparing food.
"Raw and cooked food should be kept completely separate, raw meat should be cooked through and vegetables and fruit should be washed thoroughly before eating."
The PHA has advised that anyone who ate at Flicks restaurant since 24 September and has symptoms of diarrhoea (especially bloody diarrhoea) and/or abdominal pain should contact their GP urgently for medical advice