Health Minister Edwin Poots on US business trip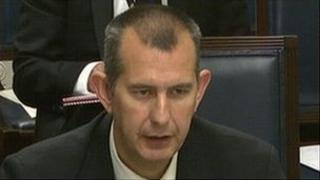 Health Minister Edwin Poots is travelling to America to promote Northern Ireland as an ideal place to develop new health care products.
He will meet key European and US health care leaders and will address an international conference in Boston.
During his four-day visit, he will urge leaders in health innovation and business to bring their products to NI.
"Northern Ireland offers a unique model. It is a single integrated health and social care system," Mr Poots said.
"Therefore, it provides an ideal test-bed for any company to develop innovative initiatives and products."
"I will take to every meeting I attend the message that business, innovation and health care are interlinked for the benefit of all citizens in Northern Ireland."
Representatives from Invest NI, several Northern Ireland technology firms and representatives from both universities will also attend an eHealth Marketplace event in America.