Janette Nelson says Newtownards attacks devastated children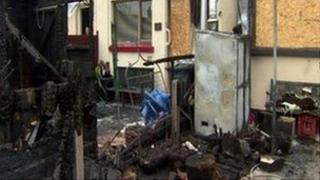 A mother of three who has left her Newtownards home after a series of attacks, has said her children have been left devastated and terrified.
Thirty-eight-year-old Janette Nelson's home at Lenamore Park has been attacked four times in recent weeks.
She was alone in it on Saturday evening when flammable liquid was poured through the letter-box and set alight.
Ms Nelson was able to put out the fire and was not injured. Police are treating the attack as a hate crime.
The Catholic family have had to endure sectarian graffiti, broken windows and two arson attacks.
During the first arson attack, Ms Nelson and her three children had to be rescued when a fire was started in the early hours of the morning.
Ms Nelson and her children are now sharing a room in her mother's house.
"My wee fella, he saw the fire engines when he was getting lifted out a window and all he could say was 'wow' he thought the lights were great," she said.
"But my two daughters are just devastated. Both of them are finding it hard to sleep, especially my middle one Sophie, she's crying a lot and is very sad.
"She just wants to go home and be in her own room with her stuff. They're just terrified and they love their wee house
"They're scared where we're going to go now, you know 'mummy how do we know we're going to be safe, how do we know they're not going to come after us wherever we are'."
Scared to return
Ms Nelson said she was afraid to return to her house even to pick up things for her children.
"The kids just want their stuff and I'm having to run down and get their wee teddy bears that they maybe forgot and being afraid to run down to the house," she said.
"I hate going in any time after five because it's getting darker."
She said the people behind the attacks must be completely heartless.
"There's no words to say to the people who have done this, they mustn't feel anything," she said.
"If you were just to see my wee girl crying, missing her teddy bears and her clothes. My heart just melts when I see them so upset."
After the latest attack she said: "It just dawned on me that someone just hates me or hates what I am, my religion, that much.
"I never thought in a million years, especially where I lived, because people were so good to me, my neighbours are lovely and they've all sent me flowers and written me cards saying 'please stand up to them, don't leave'."
She said she has been offered two houses by the Housing Executive, but both are in loyalist estates which she said she wouldn't feel safe living in.
The Housing Executive said they would try to provide support and advice and find the family suitable permanent accommodation as soon as possible
The police have said they are continuing to investigate the incidents and are determined to bring those responsible to justice.
"My priority now is to get my kids into a nice safe house," Ms Nelson said.
"I want to be able to live in peace with my kids and I thought where I was living was a peaceful place up until four weeks ago."