Terror charges against Kevin Barry Murphy dropped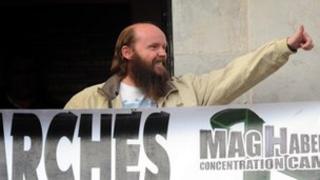 A man police claimed was a senior member of the Real IRA has had terrorism charges against him dropped.
Kevin Barry Murphy, 41, from Altmore Park in Coalisland had been charged in relation to a bomb-making factory discovered in South Armagh last year.
It was alleged his fingerprints were found on a coffee-grinder taken from the scene near Keady.
Detectives believe the grinder was linked to the bomb-making equipment which included the explosive Semtex.
On Tuesday, at Armagh magisrate's court, the charges against Mr Murphy and four co-accused were withdrawn by the Public Prosecution Service.
There was a heavy police presence during the short hearing. Several dozen of the men's supporters were in court.
In a court hearing last year police described Mr Murphy as the leader of the Real IRA in east Tyrone and part of the organisation's army council.