Jason Anpomah admits helping brother after murder bid on Met policeman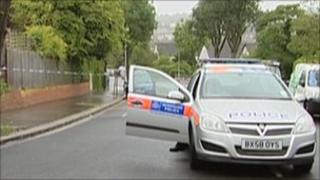 A man whose brother tried to kill a policeman in London has admitted that he gave his relative sanctuary in Belfast, knowing of the murder attempt.
Jason Anpomah, from Castlereagh Place, Belfast, pleaded guilty to assisting an offender at Belfast Crown Court.
Emmanual Anpomah was recently convicted of trying to murder a Metropolitan police officer on 15 July 2011.
Jason Anpomah allowed him to stay at his flat in Dunluce Avenue, Belfast, on dates between 16 and 20 July 2011.
The 21-year-old's trial has been due to start at Belfast Crown Court on Tuesday but a defence lawyer asked that his client be rearraigned and he pleaded guilty to helping his brother after the murder bid.
Emmanual Anpomah, also known as Damien Devine, fled to Belfast after he was involved in a gun attack on Met officers in Croydon last summer.
An unarmed constable was chasing suspects in Kingsdown Avenue when one of them opened fire and hit him in the arm.
The judge at Belfast Crown Court, Corinne Philpott QC, remanded Jason Anpomah back into custody and said she will sentence him next month when pre-sentence probation reports have been compiled.