Trevor McMurdie's family 'devastated' by his disappearance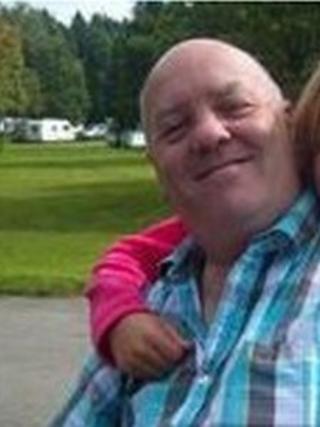 The wife of a man who has gone missing in County Armagh has said her family is devastated by his disappearance.
Jacqueline McMurdie has not seen her husband, Trevor, since he left their home to buy coffee on Saturday morning.
Police have appealed for anyone with information about the whereabouts of the 47-year-old to contact them.
The last reported sighting of Mr McMurdie was at filling station on the Gosford Road, close to Markethill, at approximately 08:30 BST on Saturday.
Mrs McMurdie said an anonymous caller phoned police to say they saw her husband getting into a red car at the filling station around that time.
'Heartbroken'
She told the BBC's Nolan Show that her young sons, one of whom suffers from Myalgic Encephalopathy (ME), have been left distraught.
"They are just heartbroken. Please, somebody come forward and say where he is, please," she said.
"It's very hard - we can't sleep, we can't eat. The wee ones, they're just devastated."
Mrs McMurdie explained that her husband left their home after he woke up early on Saturday.
She said she was making their bed when she looked out the window and saw him pulling out of their driveway in their 4X4 vehicle.
She said she tried twice, unsuccessfully, to phone Trevor.
Appeal
A few minutes later, he returned her calls and said he was on his way to the shop to buy coffee for their breakfast.
The vehicle was found at the filling station later on Saturday.
Anyone with information Mr McMurdie's whereabouts is asked to contact Armagh Police Station on 0845 600 8000.
He is described as being approximately 5'8" tall, of stocky build, with brown eyes.
When last seen he was wearing a grey fleece, blue and white checked shirt, black jeans and boots.