Northern Ireland soldier killed in Afghanistan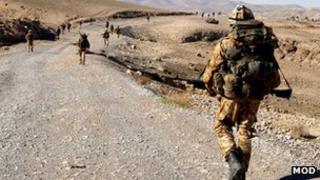 The woman soldier who died while on operations in Afghanistan on Wednesday came from Comber in County Down.
She was a medic and died from injuries after being attacked while on patrol in the Nahr-e Saraj district of Helmand Province.
A Royal Marine commando died in the same incident.
The MoD said there was an exchange of gunfire with an Afghan who is believed to have been a policeman, but who was not in uniform.
The Afghan, who had not been accompanying the patrol, was also killed.
"At this stage we do not know what initiated the exchange of gunfire and an investigation is ongoing," an MoD spokesman said.
"Further details will be provided as information becomes available, but at this time the situation remains unclear."
The 25-year-old NI soldier had been living in Yorkshire close to where her unit, 3 Medical Regiment, is based at Catterick.
Her family in Comber were informed about her death on Wednesday evening and arrangements are under way to repatriate the body.
As yet the Ministry of Defence has not released the soldier's name to the media.
Most of those serving in the 3 Medical Regiment are deployed from the Territorial Army.
The DUP's Jeffrey Donaldson paid tribute to their bravery.
"Very often these medics put themselves in the line of fire to save the lives of others," he said.
"It is particularly tragic that this young woman should lose her life in these circumstances.
"They really are the unsung heroes of conflict and are thoughts are very much with her family."
Ulster Unionist leader Mike Nesbitt said he had learned of the death with great "regret and much sadness".
"It is a reminder of the incredible bravery displayed by our armed forces as they risk their lives for our freedom," he said.
"The debt we owe them is one that can never be repaid.
'Dreadful news'
"On behalf of my party, I would like to extend my deepest and sincerest sympathies to family, friends and colleagues of the fallen."
Maj Laurence Roche, spokesman for Task Force Helmand, said: "I am extremely sorry to announce the deaths of a Royal Marine from 40 Commando and a soldier from 3 Medical Regiment serving with Task Force Helmand.
"This is dreadful news for all of us serving in Afghanistan. Our sincere condolences go to their families, friends and colleagues at this time of grief."
A total of 435 British military personnel have been killed in Afghanistan since operations started in 2001.