Hain 'astonished' by decision not to repeal scandalising the court offence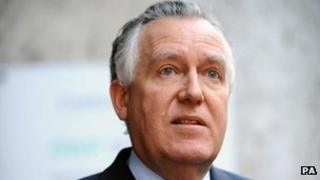 Peter Hain says he is "astonished" that Justice Minister David Ford has spurned a chance to have the ancient offence of scandalising the court repealed.
A review is under way in England and Wales.
It follows a case earlier this year in which it was used against the former Northern Ireland secretary.
NI's Attorney General John Larkin decided to charge Mr Hain over remarks he made about a High Court judge in his autobiography.
Mr Larkin's move prompted 120 MPs to sign a motion backing the veteran Labour politician.
The Law Commission has been consulting in England and Wales to see if the ancient offence should be struck from the books.
The offence is a form of contempt of court, but has not been successfully prosecuted since 1931.
It is committed by publishing anything that ridicules the judiciary to the extent that it is likely to bring the administration of justice into disrepute.
Minister of State Lord McNally wrote to Mr Ford asking if he wanted Northern Ireland to be included in any change to the legislation, but Mr Ford declined saying he thought Stormont should consider the matter separately.
The justice minister told the BBC he doesn't see it as a priority.
"I'm a devolutionist," he said. "I believe in issues being considered here properly with due public policy formulation and due consultation rather than just piggy backing on what some backbencher thinks of it in the House of Lords.
"It clearly isn't a priority. We have far too many things to address in the department of justice. If you think that this equates to issues like supporting the police, prison reform, youth justice, legal aid...if you think its important compared to them, it is not."
But Mr Hain has criticised his decision saying: "I'm astonished Northern Ireland isn't joining at least England and Wales to get rid of this medieval offence.
"Northern Ireland has an exemplary human rights reputation now with the best legislation almost anywhere in the world and then not to support freedom of speech like this is astonishing."
The DUP chairman of the Assembly's Justice Committee, Paul Givan, said that if it is not an issue of public concern Mr Ford should have allowed Westminster to get rid of the offence.
"This is something that I'm going to keep an eye out for," said the MLA for Lagan Valley.
"If the minister isn't going to look at these issues and bring forward a piece of legislation to remove it then there may be opportunity as we look at future justice bills in the assembly where individuals will be able to bring forward amendments to that and get rid of an archaic piece of legislation."