The popularity of the adventure holiday explored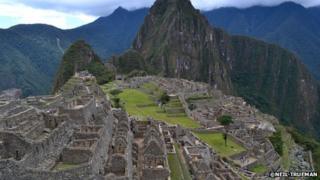 Walking 45km at altitudes reaching 4,200m and spending nights nose-to-nose with deadly bushmaster snakes - you can understand why people questioned this as a holiday.
I had sky-dived in New Zealand, lassoed a goat in the Australian outback and rode a camel in the Sahara desert, so was I not now ready to simply lie on a beach for a week?
Clearly the answer was no. I still have so many places in the world I want to see
I am not alone, the Association of British Travel Agents (ABTA) said about 1.8m of overseas holidays are adventure holidays.
A spokesman said: "Unsurprisingly, the younger generation are more likely to take an adventure holiday, with around 15% of 15-24 year olds doing so."
He added that this percentage then fell steadily with age and that men were also more likely than women to choose this type of trip.
I had been longing to visit South America for many years. The prospect of completing the Inca trail to Machu Picchu and experiencing one of the new modern wonders of world was my defence to those who said they would much prefer a more relaxing break.
As the cost of my vaccinations added up and the thought of a 2.5 hour flight to Madrid, a 15 hour stop-over and another 12 hour flight to Lima in Peru loomed closer, there were moments when I questioned if it was worth it.
Mosquitoes
Despite exploring numerous blogs before my departure, I was still unsure of what to pack.
Would I be warm enough to wear shorts and t-shirts on the Inca trail? Did I really need thermals, gloves and hats for the evenings on the trek? Were long-sleeved tops necessary to help against mosquito bites?
And more importantly, how was I supposed to fit clothes for all seasons, plus a travel pillow, a sleeping bag and hiking boots into my rucksack?
Deane Dawson who works in the outdoor department of Podium 4 Sport says compact travel luggage, sleeping bags suitable for minus degrees and mosquito nets are requested by customers preparing for adventure holidays.
He said many young people were developing their love of the outdoors through taking part in the Duke of Edinburgh awards.
"They are coming in looking for typical things like boots, rucksacks, sleeping bags and carry mats, although they're also attracted by things which make life easier such as the pre-cooked packs of food," he said.
"This means they can have a meal of sausage and beans simply by adding boiling water."
Tarantulas
First stop on my adventure journey was a motorised canoe ride into the Amazon rainforest.
This opened our group of 14 up to a very different world to the one we are used to.
Far from civilisation, we had a taste of life without electricity, internet and televisions. Instead we were treated to the sounds of the rainforest as we slept in our wooden lodges with mosquito nets for windows.
A number of those in our group were not keen on spiders so the massive tarantulas spotted in the wild came as a shock.
However, along with the snake, the woodpecker and the tree frogs, these ensured that this was an experience to remember.
A few days later, we set off on our trek along the Inca trail.
I had read conflicting reports on how strenuous the four-day walk would be and the impact walking so far above sea level would have. I had done some training in the Mourne mountains although I was under no illusions that the challenge would be much tougher.
So with inspect repellent, high factor sun tan lotion, a rain poncho and locally bought walking sticks at the ready, I set off.
A maximum of 500 people, including guides and porters, are permitted to begin the trail every day. Our group seemed to be keeping a good pace, yet the porters, some of whom were in their 60s, literally ran past us carrying up to 25kg on their backs.
Days which included walking up to 16km per day were broken up by lunch breaks.
I was prepared for a sandwich, however, each day we arrived at our mid-day stop to tents already erected which housed tables, chairs and folded napkins.
A three-course meal always followed with starters of warm soups; mains of meat, potatoes, rice and vegetables; and even a dessert of a cake on the menu.
Our tents were also set up upon arrival to our campsite every evening and, toilets aside, we were afforded as much comfort as is possible when sleeping outdoors and away from civilisation.
When we awoke on our fourth and final day, there were only six kilometres left to reach our end-goal of the 15th-century Inca site of Machu Picchu.
A three in the morning start in order to watch the sun rise over the ruins proved disappointing when we were met with a thick blanket of cloud.
However, when the clouds parted, our sore muscles, tiredness and need for a shower were soon forgotten when the spectacular and relatively intact cultural site, only rediscovered in the early 1900s, came into view.
Yes, the four-day trek was a challenge. We tackled steps which had us at times on our hands and knees, and were left feeling dizzy and light-headed due to the altitude.
But we traversed past spectacular views and ancient archaeological sites and have memories that are sure to last us a lifetime. I am now ready for the next adventure.