Millie Martin's mother says daughter had become more clingy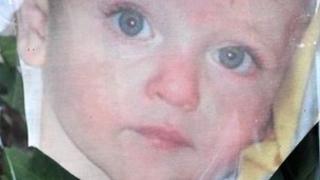 Enniskillen toddler Millie Martin became more clingy a month before her death, her mother has told police.
Rachael Martin was interviewed as a witness following Millie's death in December 2009.
She is accused of allowing the death of her child. Her former partner Barry McCarney is accused of murder and sexual assault. Both deny the charges.
Ms Martin said she thought Millie had become more clingy towards her because the toddler was jealous of Mr McCarney.
She told police that around the same time, Millie also had a number of unexplained injuries.
On one occasion, Mr McCarney called to her from Millie's room to say her mouth was blue. When she went upstairs she said Millie had a big lump on her forehead but Mr McCarney had not seen it.
She told police: "You couldn't miss it. It was the first thing I'd seen".
"I can't understand how she didn't cry. If I hit my head like that I'd be squealing."
She also said Millie had begun to lie quietly in her cot in the mornings when before she had heard her playing with her toy mouse Mimsie. Ms Martin said she thought Millie was being good and having a lie- in.
Ms Martin also recalled an incident when Mr McCarney telephoned her while she was in the supermarket to tell her Millie had fallen out of her cot.
She said she thought: "Maybe she's sleepwalking, but that's stupid".
The trial will continue on Monday 5 November.