Book of condolence opens for dead Army medic Cpl Channing Day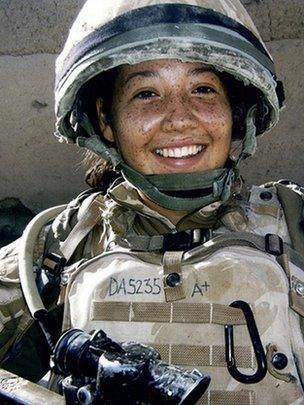 A book of condolence has opened in the hometown of an Army medic from Northern Ireland who was killed in Afghanistan last week.
Cpl Channing Day, 25, of 3 Medical Regiment and Cpl David O'Connor, 27, of 40 Commando, died in a gun battle on Wednesday.
Cpl Day grew up in Comber, County Down, and went to school in Newtownards before joining the army in 2005.
The book is open to the public at St Mary's Church of Ireland.
The Mayor of Ards, Alderman Hamilton Gregory, said the people of Comber wished to express their sympathies to her family.
"Local people feel an enormous sadness at the terrible loss which the Day family have suffered and wish to show their sympathy and support for the family in a visible way," he said.
"The book of condolence allows them to do so and I hope, along with all our thoughts and prayers, this will be of some small comfort to the family as they grieve for their precious daughter."
The church will be open for people to sign the book between 09:00 GMT and 20:00 GMT.
On Saturday, her sister Lauren described Cpl Day as "the bravest, beautiful, determined woman".
In a statement, released by the Ministry of Defence on behalf of the family, Lauren said: "If there was one thing she knew growing up it was she wanted to be a soldier, proven by the way she'd march around the living room.
"She loved what she did and we are so proud of her."
The MoD is investigating how the soldiers died. They were in a fire-fight while on patrol in Helmand province in which an Afghan man, thought to be an off-duty policeman, also died.
An initial review has said that the killings were not caused by "friendly fire".
Cpl Day was the third British woman to have died while serving in Afghanistan.
A total of 435 British military personnel have been killed in Afghanistan since operations started in 2001.
Related Internet Links
The BBC is not responsible for the content of external sites.