Men threaten punk icon Terri Hooley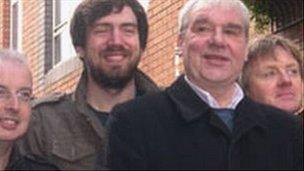 One of Northern Ireland's most iconic music figures had told of being accosted by two men while he was walking his dog at the weekend.
Terri Hooley, founder of the Good Vibrations music shop and record label, was pushed and verbally abused by the men in east Belfast on Saturday,
Mr Hooley said he was called a "fenian lover" and "a disgrace to the Protestant community".
He has not yet reported the incident to police but said he intends to do so.
Mr Hooley is recognised as being responsible for the growth of the punk music scene in Belfast in the 1970s.
As founder of the Good Vibrations music shop and record label, he helped to bring to prominence bands such the Undertones and Rudi and the Outcasts.
A film of his career has received critical acclaim and won several awards.
Mr Hooley, who is now in his 60s, said he was walking his dog Ella along the Comber greenway shortly after 17:00 BST on Saturday when the incident took place.
"I was looking around for cyclists because I didn't want the dog to get run over, but I didn't see anybody.
"All of a sudden, two guys came up right behind me. One of them pushed me and started calling me a fenian lover and saying I was a disgrace to the Protestant community."
He said the man was "a big guy of around 60 years of age".
"But his friend who was between 35 and 40, he was the one who looked the more dangerous," he said.
"He didn't say anything but he kept looking at the dog and kept looking at me. I think he was just waiting for me to have some sort of reaction and then he would have got stuck in.
"I'm just glad that when they pushed me, I didn't fall down."
Mr Hooley believes he may have been saved from a beating when a woman he knew came along.
"She asked if I was all right and I said yeah. While I was talking to her, they skulked off. I don't think they wanted to have a witness," he said.
Mr Hooley said he was not sure why the men had confronted him but it may have been because of a recent spate of publicity about his film.
"I don't know whether it's jealousy or not but I'm nearly sure this guy went to my school," he said.
"If it's the same guy I'm thinking of, he was a bully when he was a kid and he obviously hasn't changed."
He said he been attacked before, the most recent being four years ago outside his shop.
"All my mum's family, all my uncles and my grandfather were in the Orange Order but they were never bigots. They always had plenty of Catholic friends," he said.
In November, Belfast City Council is to erect a bronze plaque to Terri Hooley in Hill Street on the site of the former Harp Bar, the focal point for punks in the 1970s.