Theresa Villiers says dissident threat 'remains severe'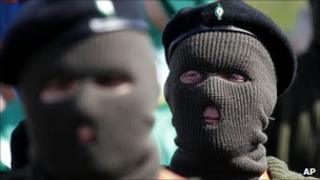 The level of threat from dissident republicans in Northern Ireland remains "severe" the Secretary of State has told a Westminster committee.
But Theresa Villiers said the number of attacks so far this year was slightly down on the same period last year.
Their "sophistication and potency" were on the whole lower.
Earlier this month the threat from these groups in Great Britain was lowered from substantial to moderate.
But in her first appearance before the Northern Ireland Affairs Select Committee Ms Villiers said that was not the case in Northern Ireland although there had been some "fluctuation."
"I think some good progress has been made by the PSNI and its partners leading to a number of arrests, charges and convictions," she said.
"However the intent and capability of the dissident republicans remains significant as is their potential to carry out potentially lethal attacks. That should never be underestimated and we remain vigilant on these matters."
She also told MPs she believed there was a possibility that corporation tax powers could still be devolved to Northern Ireland but stressed the final decision was the Prime Minister's.
"We wouldn't have done months of work on how it would operate in practice if we didn't believe this was something that's theoretically possible and might be deliverable, " said the Northern Ireland Secretary.
"What we don't yet know is what ultimately the decision of the Prime MInister will be but I certainly am sure that he is very much aware of the support in Northern Ireland for this and no doubt that's something that the First Minister and deputy first minister have also raised with him in their meetings and discussions with him over the past couple of years."