Welfare reform work assessment concerns raised at Stormont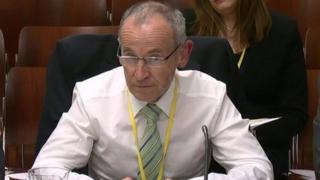 The Human Rights Commission has expressed concern that an impact analysis of welfare reforms had not been made available to the Stormont's Social Development Committee.
Commission representatives gave evidence to the committee as it considers the welfare reform bill.
John Corey said fitness for work assessments, should consider societal factors that affect each individual.
The assessment process should not be "box ticking", he said.
The committee also heard from representatives of the Equality Commission on Tuesday.
Darren McKinstry said they had concerns around work assessments, and that "sanctions across the board is something we want to see carefully applied".
Protect
Michael Copeland of the UUP observed that, since this was was enabling legislation, it was hard to make judgements without having sight of the regulations that would follow.
Evelyn Collins, chief executive of the Equality Commission, agreed that it was "difficult for anyone to see the full implications".
The DUP's Sammy Douglas drew attention to the commission's preference for benefits to be paid to the primary carer in a household.
He asked if this amounted to discrimination against men.
Another commission representative, Tony O'Reilly, said this was intended to protect the interests of the child.
The planned changes include sanctions for those turning down jobs and a cap on benefits paid to a single family.
The coalition government has argued that the changes will "make work pay".
It has insisted the changes will ensure people who are working are better off than the unemployed.
If the new legislation is passed by MLAs at Stormont, the Welfare Reform Bill would bring the changes brought about at Westminster into effect in Northern Ireland.
In a press release, Sinn Fein MLA Alex Maskey said that social development minister Nelson McCausland "needs to take on board the concerns expressed to the department's committee around the Welfare Bill."
A spokesperson for the Department for Social Development said: "Detailed information on the main welfare reform proposals is available to the public on the government website.
"The site includes a dedicated welfare reform area which outlines the main proposals contained within the Welfare Reform Bill.
"The department is also engaged in extensive stakeholder activity to ensure that the community is well informed on the proposals contained within the bill.
"To date numerous information sessions have been held with community, voluntary, advice and church organisations right across Northern Ireland.
"If the proposals become law for Northern Ireland, the department will ensure that all those affected are informed, and supported through, any change that will affect them."