Welfare reform bill legal challenge 'highly likely'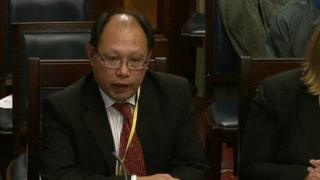 The Northern Ireland Council for Ethnic Minorities (NICEM) has told a Stormont committee that it is "highly likely" there will be a legal challenge against the Welfare Reform Bill.
Patrick Yu said the bill, which will bring about the biggest overhaul of the benefits system since the 1940s, might infringe a number of European Union laws.
One of the bill's reforms is the introduction of the single, universal credit to replace six income-related, work-based benefits.
Mr Yu responded to questions posed by Sinn Fein's Fra McCann over whether NICEM would consider supporting legal action.
"A legal challenge is one of the many options we should consider," he said.
'Inherently discriminatory'
"I think in this case we are highly likely to because we are really not happy about the whole benefits system."
His colleague Karen McLaughlin said they had concerns over the Welfare Reform Bill's compatibility with EU law.
She said some of the provisions within the bill allowed for the differential treatment of EU migrant workers.
"Some parts of the bill are inherently discriminatory," she said.
Ms McLaughlin said she was was also concerned by suggestions in draft Great Britain regulations that EU migrant workers would possibly be paid at lower rates as "this would constitute direct discrimination".
The NICEM representative said that Westminster's Department for Work and Pensions had also indicated that a new resident's test would be introduced which would require the worker to have been in the UK for two out of the last three years.
She said that such a test had previously been seen to be in breach of EU law.