David Mills' death 'may have resulted from a feud'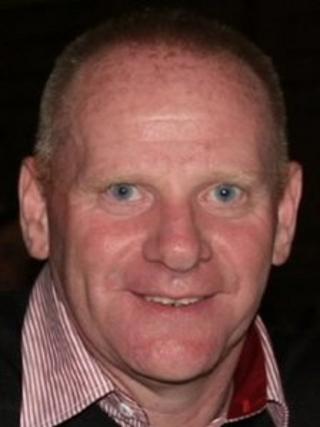 A feud may have led to the death of a former Irish League footballer, the High Court heard on Wednesday.
David Mills, 47, was allegedly punched up to 14 times by John Foster in the attack that led to his death.
He died from injuries inflicted during a night out in Ballynahinch, County Down on 29 September.
John Foster, 30, from Carrigvale, Dundrum, claims he acted in self-defence. The judge granted him temporary bail to see his newborn son.
Despite being told of fears for his safety and alleged threats posted on Facebook, a judge granted him
Mr Mills, a keen sportsman, had been out with a cricket club when the confrontation occurred, according to the prosecution.
It was alleged that Mr Foster had verbally abused him as he went to get a Chinese takeaway.
The prosecution claimed Mr Mills then walked after the unemployed bricklayer and a fight occurred.
"This applicant punched the deceased and he fell to the ground," prosecutor Kate McKay.
"It would appear there were a number of punches, namely 14 punches, while Mr Mills lay on the ground.
"At one stage he was seen to lift the deceased up and throw him back down again."
CCTV cameras captured the incident, with operators reporting it to the PSNI.
Police officers discovered Mr Mills lying unconscious and covered in blood.
He was given emergency first aid and taken to hospital, but died the following morning.
The court heard that, following his arrest, Mr Foster urged police to check the CCTV footage, claiming he was jumped first and then acted in self-defence.
Mrs McKay confirmed that he and the victim were known to each other.
"It appears there was some kind of feud the police were aware of, but they don't really know the details," the barrister said.
Defence counsel Noel Dillon said Mr Foster claims Mr Mills had behaved threateningly towards him.
He contended that the victim approached his client before the two men started to fight and roll around on the ground.
"This is not a case of stamping or kicking or any weapon used," Mr Dillon said.
He pointed out that a jury will have to decide on the self-defence claims.
According to Mrs McKay, due to feelings in the community, the PSNI had concerns for Mr Foster's safety if he was granted overnight bail.
Comments about him posted on Facebook could be interpreted as threats, the court was told.
Granting compassionate bail, Mr Justice Maguire emphasised that he formed no view on guilt or innocence.
He ruled that Mr Foster could be released for a period of hours, with an alcohol ban imposed during his time outside custody.