Bertie Acheson murder: man arrested in Belfast area is released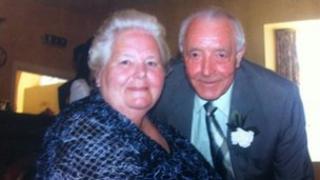 A 39-year-old man arrested by detectives investigating the murder of Coleraine pensioner Bertie Acheson has been released on police bail pending further inquiries.
Mr Acheson, 72, was assaulted after he confronted an intruder in his Glenmore Gardens home on 30 April.
He suffered a heart attack during the burglary which detectives said was brought on by stress.
The man was arrested in the Greater Belfast area on Wednesday.
Mr Acheson and his wife Sheila were in bed asleep when they were awoken by the sound of breaking glass at about 01:30 BST.
Mr Acheson got out of bed and went into the kitchen where he was confronted by a man who demanded money.
There was an altercation and a struggle which resulted in Mr Acheson falling to the floor.
The burglar then went into the bedroom where he threatened Mrs Acheson, who is 70 and suffers from arthritis, before taking her purse and escaping with £375.
Mrs Acheson raised the alarm, but by the time ambulance personnel and police arrived, her husband was dead.