David Black murder: 'Son drove past scene of killing'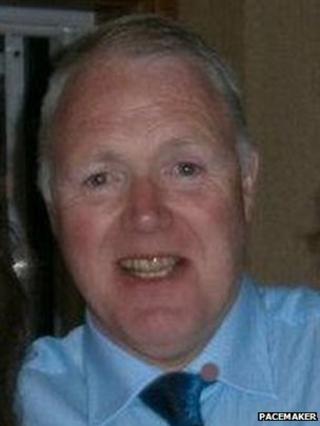 A friend of a prison officer who was murdered in Northern Ireland has said the victim's son drove past the scene 15 minutes after the killing.
David Black was shot dead on the M1 in County Armagh on Thursday as he drove to work at Maghaberry Prison.
The father-of-two from Cookstown was the first prison officer to be murdered in Northern Ireland in almost 20 years.
Ulster Unionist councillor Trevor Wilson has visited the family and said they were "devastated".
"The M1 is supposed to be the busiest road in Northern Ireland and David's son actually drove past the scene 15 minutes after it happened and not knowing that his father was actually involved in it," he said.
Two men were arrested in connection with the murder on Friday.
Mr Black's minister, the Reverend Tom Greer of Molesworth Presbyterian Church in Cookstown, said that among the people who have been in contact to express their sympathy have been prisoners from Maghaberry jail.
"They found David an officer whom they respected and whom they related to well," Rev Greer said.
"That was significant I think, to hear that even some of the guys that David would have been supervising as an officer were devastated at the thought of his death and shocked by it and have sent their sympathy."
Ministers from the Northern Ireland Executive and the Irish Republic's government will discuss the murder of Mr Black later, the BBC understands.
The North South Ministerial Council (NSMC) meeting will take place in Armagh.
Safety
Meanwhile, the head of the Northern Ireland Prison Service has denied that prison officers have been told that they are to lose their personal protection weapon.
Sue McAllister was responding to claims made in the aftermath of the murder. Speaking on BBC Northern Ireland's The View, Ms McAllister said that she was determined to ensure the safety of all prison officers.
"I have checked and to my knowledge no prison officer has been told that his or her personal protection weapon is to be withdrawn," she said.
"I will certainly be making sure that any prison officer who wishes to have a personal protection weapon will be able to apply to the police service as per our procedures."
There has been widespread condemnation of the murder.
Mr Black was attacked on the motorway between Portadown and Lurgan at 07:30 GMT on Thursday.
'Terrorist attack'
A car with Dublin registration plates drove up beside him and fired a number of shots. His car veered into a ditch.
Dissident republicans have been blamed for the murder.
Speaking on BBC Radio Ulster on Friday, the chairman of the Northern Ireland Policing Board (NIPB), Brian Rea, praised the police response to the attack.
He said: "We support and applaud the members of the PSNI who in the first instance, we understand, were responding to what was considered to be a single vehicle incident on the M1 motorway and then discovered that they were dealing with a terrorist attack on a man driving to his work in HMP Maghaberry.
"We will continue to support the chief constable and all of his officers as they work to bring to justice those who have committed this heinous crime."
Experienced
A scheduled meeting of the NIPB was adjourned on Thursday as a mark of respect for Mr Black.
The 52-year-old was a very experienced prison officer and had worked through the Troubles.
He was one of hundreds of officers who had applied for the prison service redundancy scheme.
Mr Black was the 30th prison worker to be murdered since 1974 in Northern Ireland.
The last prison officer killed was Jim Peacock who died on 1 September 1993.
He was murdered by the loyalist paramilitary group the Ulster Volunteer Force (UVF) at his Belfast home.