Gold Olympic post boxes to keep sheen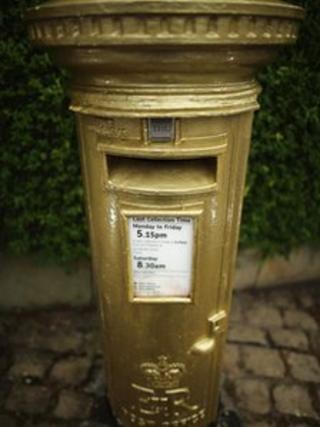 Royal Mail has said the three post boxes painted gold to honour the achievements of Northern Ireland's paralympians will be permanently gold.
Gold medallists Jason Smyth, Michael McKillop and Bethany Firth were all honoured with gold boxes in Eglinton, Glengormley and Seaforde.
Royal Mail said the 110 golden boxes across the UK had become landmarks.
Gary Crawford, General Manager for Royal Mail in Northern Ireland, said people had taken to the idea.
He said that they thought it was the first time in the company's history that there had been a permanent change to the colour of the post boxes.
"The gold post boxes gave communities even more opportunity to mark the successes of their local athletes - and became a part of local celebrations of London 2012 across the UK," he said.
"I am pleased to confirm that these postboxes will be kept gold permanently."
Former gold medal winner, Dame Mary Peters welcomed the decision.
"Northern Ireland's Olympians and Paralympians kept us all gripped this summer by their achievements at London 2012, and none more so than our three local gold medal winning Paralympians," she said.
"I am delighted that the gold post boxes for Jason, Michael and Bethany are to remain gold as a permanent tribute to their outstanding success."