Dissidents 'swimming in sea of crime' - Martin McGuinness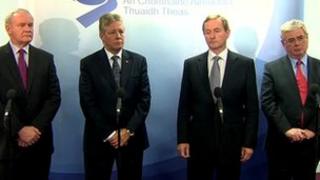 Martin McGuinness has said dissident republican supporters must realise they are backing people "swimming in a sea of criminality and drugs".
Northern Ireland's deputy first minister was speaking following the murder of prison officer David Black.
Mr Black was shot dead on the M1 in County Armagh on Thursday as he drove to work at Maghaberry Prison.
First Minister Peter Robinson said everyone in Ireland had to realise the dissidents were their enemy.
He described Thursday's murder as "evil and immoral".
"We will do everything within our power as two administrations to ensure that the people who are responsible are caught, brought before the courts and that the courts apply the due process of law to them," he said.
Mr Black, a father-of-two from Cookstown, was the first prison officer to be murdered in Northern Ireland in almost 20 years.
Dissident republicans are believed to have been responsible.
Ministers from the Northern Ireland Executive and the Irish Republic's government discussed the murder at a meeting of the North South Ministerial Council (NSMC) meeting in Armagh on Friday.
Mr McGuinness said there was no prospect of the killers - who, he said, dressed up their criminality in a flag of political convenience - destroying the peace process.
"There is not a political party on this island that hasn't subscribed to the criticism and condemnation of the murder of David Black," he said.
"This is a 32-county problem and can only be dealt with by the PSNI and Garda.
"I believe that there is a duty and a responsibility on every citizen who supports the peace process to give every support to the Garda and the PSNI for the apprehension of those who were responsible for the murder of David Black.
"We can't have a half-baked approach to people who wish to destroy everything that has been built up over the last 15 years."
'Extortion and drug-dealing'
Irish Prime Minister (Taoiseach) Enda Kenny said dissident republicans were linked to criminality, extortion and drug dealing which had also led to deaths on the streets of Dublin.
He said Mr Black's murder had overshadowed Friday's meeting.
"We do not want to see a return to this, nobody on this island wants to see a return to this," he said.
"The assistance of the government of the Republic of Ireland is available to our colleagues here in the executive and assembly and PSNI in Northern Ireland.
"I do hope that the perpetrators of this murder can be brought to justice and dealt with by the courts."