Purses stolen from St Anne's Cathedral in Belfast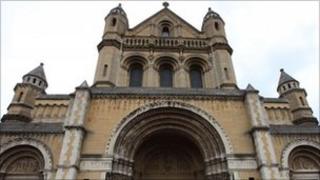 A number of purses have been stolen from people attending an event at St Anne's Cathedral in Belfast.
The purses belonged to performers, most of them pensioners, who were taking part in a concert as part of the Belfast Festival at Queen's.
They were taken from a hall attached to the church in Donegall Street.
The incident happened some time between 17:00 and 17:45 GMT on Saturday.
Police have appealed for information about the incident.