David Black murder: Man, 46, arrested in Lurgan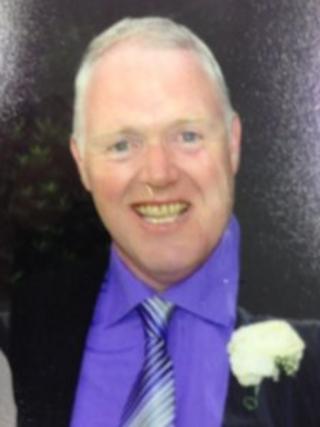 Detectives investigating the murder of Northern Ireland prison officer David Black have arrested a 46-year-old man, police have said.
The father of two was shot dead on the M1 in County Armagh on Thursday as he drove to work at Maghaberry Prison.
Police said that the man was arrested in Lurgan, County Armagh, and is being questioned at Antrim police station.
Mr Black, 52, was the first prison officer to be murdered in Northern Ireland in almost 20 years.
His funeral was held in his home town of Cookstown, County Tyrone on Tuesday.
At the service Mr Black's killers were described as "murderous thugs and bloodthirsty criminals".
Rev Tom Greer, told mourners at Molesworth Presbyterian Church, that Mr Black had been a man who had "love and kindness in his heart".
Wednesday's arrest is the fourth to have been made in the murder investigation.
Prominent Irish republican Colin Duffy, 44, and a 31-year-old man were arrested in relation to the murder last week. Police in the Irish Republic also arrested a 29-year-old man in connection with the killing.
All three have since been released.