Millie Martin murder: Jury shown video clip of injury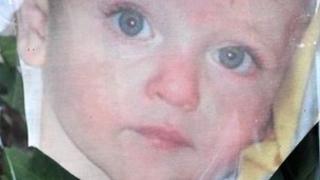 The Millie Martin murder trial jury has been shown one of the injuries she suffered.
A video clip of the 15-month-old child, taken about a fortnight before her death from severe head injuries on December 11, 2009, was shown.
In the clip, a large bump could be seen in the middle of Millie's forehead.
The jury was told by prosecution QC Ciaran Murphy that the clip was being played to the court, "by agreement" with the defence.
It was taken in the toddler's home in Enniskillen by her mother, Rachael, on her mobile phone, and showed Millie and her mother's then partner, Barry McCarney, sitting at opposite ends of a beige leather settee.
Rachael Martin, 27, is accused of allowing Millie's death by neglect.
Her former partner Barry McCarney is accused of the toddler's murder. Both deny the charges.
Various witnesses throughout the 20-day trial had described the bump as being clearly visible, looking like an oval, or even egg shaped. Those descriptions matched what could be seen on screen.
The court also heard of Mr McCarney's response at being charged within hours of her death, with the murder of Millie.
When asked if he had anything to say, McCarney replied: "Yes I do. I would like to say I'm totally innocent of all charges. I didn't lay a hand on Millie. I'm sickened and saddened by the death of Millie."