Stormont department took 320 days to answer FoI request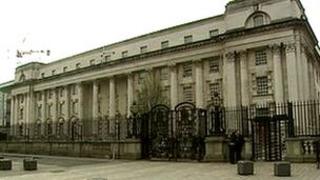 A Stormont department behaved contemptuously in waiting almost a year to answer a Freedom of Information request, a court has heard.
A retired civil servant hit out at the time taken to give him details of exemption of teachers in Northern Ireland from fair employment rules.
Jeffrey Dudgeon had brought legal action over the delay.
A judicial review hearing was due on 8 November but the outstanding material was sent to him on 7 November
Mr Dudgeon, a self-litigant and chairman of the Ulster Unionist Party's South Belfast Association, accepted that proceedings against the Office of the First and Deputy First Minister should now be withdrawn.
However, he criticised the delay in providing a full answer given the normal 20-day time limit for responding to FoI requests.
He told Belfast High Court: "They did provide the documents to me at the very last minute.
"But I have to say that I find it somewhat high-handed to provide them at 6.30 at night, 320 days after my application.
"I think it is somewhat contemptuous."
Counsel for the OFMDFM offered an apology for the time taken to fully deal with his request.
Mr Justice Treacy confirmed that in the circumstances the case should be dismissed.
He added: "I will allow the application to be withdrawn and I won't make any comment on what the applicant has said."
The FoI request to OFMDFM dealt with the exemption for teachers from an EU directive in 2000 outlawing employment discrimination on grounds of religion and sexual orientation.
Northern Ireland is the only part of Europe to have exceptions put into the directive.
As well teachers, there had been an exemption for the PSNI under the 50:50 recruitment police.
Outside the court Mr Dudgeon said he was seeking to find out the reasoning for seeking such an exception.
He added: "This FoI request was the prequel to a developing campaign to ensure fair employment law is applied in Northern Ireland, without exception, and that the executive at the very least implements the Equality Commission's report of 2004 which recommended the exemption's abolition in secondary schools."