Nadine Dorries' I'm a Celebrity move gets thumbs down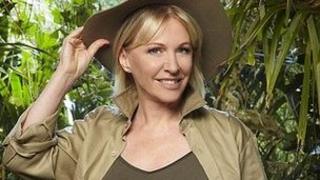 At least Nadine Dorries will earn a reported £40,000 for her decision to swap the bear pit of Westminster for the Australian Jungle.
I got an afternoon in the Tropical Ravine House in Belfast's Botanic Gardens to see how it might feel.
Nadine and I have a lot in common. Let's start with ritual humiliation, except her price was a lot higher than mine.
"Why don't you go and ask people what they think of it," said the editor.
"Where?," said I. See above for the answer.
The results will be on The View BBC One NI on Thursday night at 22:30 GMT and on the iPlayer.
Strictly speaking the Ravine House is only half the story. It's a fantastic jungle-like location complete with a brand new and all too realistic soundtrack.
If ITV check it out in time, it will save them a fortune sending "celebrities" like Nadine half way around the world for the next series of I'm a Celebrity Get Me Out Of Here.
We, however, were forced to venture out into the slightly more heavily peopled gardens nearby to get our vox pops on Nadine's capers.
It's a good thing she won't see the results in her leafy lair.
"Inappropriate," said one. "Irresponsible," said another.
"Its her job to be in Parliament," said a third. "Is she going to give the money to somebody. Is she going to donate it to charity?"
Trying a different tack we asked which Northern Ireland politicians they would like to send to the jungle with her.
Names like Adams, McGuinness, Paisley predictably tumbled out. Along with, perhaps rather less obviously, Pat Doherty the Sinn Fein MP for West Tyrone.
It's highly unlikely any will (a) be asked and (b) agree. Though as one of our Belfast punters said "that would be good TV now".