Ash dieback: Northern Ireland woods checked for fungus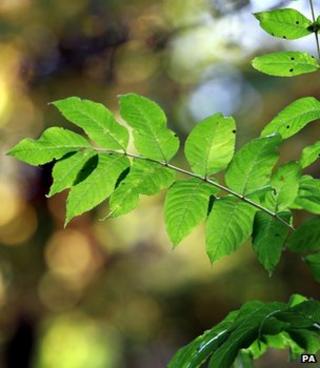 Forestry Service staff in Northern Ireland are surveying tens of thousands of hectares of woodland to check for ash dieback.
So far no evidence of the Chalara fraxinea fungus has been found, but it has been found in the Irish Republic and in several sites in Great Britain.
The service has said the people should clean their boots and bicycle tyres after visiting woodland areas.
About 32,000 hectares of woodland in NI are likely to have some ash trees.
In a statement the Department of Agriculture and Rural Development, which runs the Forest Service, said emergency legislation has been put in place restricting the imports and movement of ash plants, seeds, wood and bark.
DARD said that the survey could help see the establishment of Chalara fraxinea free areas, but that until this was completed there was a total ban on importing and moving ash trees.
"Survey work has already commenced here including inspections of ash in production/retail premises, amenity and woodland plantings and will continue over the winter months," a spokesperson said.
"Evidence from these inspections will form part of any case to establish a pest-free area."
The Forest Service estimates that there are just over 105,000 hectares of woodland in NI, or 8% of Northern Ireland's land area.
Of this about 32,000 hectares are made up broadleaf trees, like oak and ash, and conifer/broadleaf species growing on mineral soils which are likely to contain a component of ash.
There are also an estimated 75,000 miles of hedgerow, which are also likely to contain some ash.
DARD said ash woods were among the richest habitats for wildlife and important for mosses and lichens.
Ash timber is used as a raw material in the production of furniture, tool handles and for making hurley sticks, used in the popular Irish field game of hurling.
The Irish Guild of Ash Hurleymakers makers says that the hurley making industry alone is responsible for supplying at least 400 full-time jobs throughout the whole of Ireland.
About 350,000 hurleys are produced annually, although more than 70% of the ash wood used to make them is now imported.
Dieback, caused by the Chalara fraxinea fungus, was first recorded in eastern Europe in 1992 and spread over two decades to infect most of the continent.
A Chalara action plan is to be published on Friday by the Westminster government.
The first confirmed case in the UK was recorded at a nursery in Buckinghamshire back in March 2012.
Researchers have said the affected trees in woodlands in the south of England were likely to have become infected as a result of coming into contact with Chalara fraxinea spores that had been blown over from mainland Europe.
The disease has also been confirmed at 11 sites in Scotland.
The Forestry Commission in Great Britain has issued guidance on how to identify the disease.