Father and son 'near scene of killings' in Turkey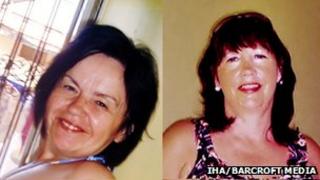 Turkish judges examining evidence about the murders of two County Down women have heard from a witness who claims to have seen the two suspects near the scene of the killings.
Recep Cetin, 22, and his father Eyup are accused of murdering Marion Graham and Cathy Dinsmore.
Ms Graham, from Newry, and Ms Dinsmore, from Warrenpoint, were stabbed to death in August 2011.
Their bodies were found in a forest on the outskirts of the city of Izmir.
Recep and Eyup Cetin are being tried in a series of hearings which are being held over a number of months in Izmir.
On Friday morning, the panel of four judges heard evidence from a witness who testified via video link from another courtroom.
The witness's identity was kept secret and his voice was disguised.
The witness said he had been visiting a graveyard close to the forest on the day of the killings.
He claimed he heard moans and screams, then followed a path and saw the suspects standing beside an electricity pillar.
The witness said he went to the police the following day when he saw a newspaper report.
But a defence lawyer claimed that according to police records, the witness did not go to the police until a month after the killings.
Recep and Eyup Cetin said they did not accept the witness's statement and called him a liar.
They asked the court to set them free but the judges ordered that they be kept in custody.
The court also heard evidence from a taxi driver who drove both victims from Kusadasi, where they were staying, to Izmir along with Recep Cetin.
An officer from the Turkish Birth Registry office also attended court and confirmed that Recep Cetin's legally accepted age was 22, not 17 as he had previously claimed.
This means that Recep Cetin will face a heavier penalty if convicted, as his case will continue in the adult court system rather than the juvenile justice system where it was initially being dealt with.
Recep Cetin was the boyfriend of Marion Graham's teenage daughter Shannon at the time of the murders.
The next hearing will take place on 28 December.
The lawyer for the victims' families, Baris Kaska, said he believed there would be several more evidence sessions before the case concludes.