190 jobs to go at Patton Group in Ballymena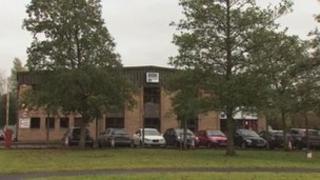 A total of 190 workers at troubled County Antrim construction company, Patton, are to be made redundant.
The Ballymena-based group was placed into administration on Tuesday, 24 hours after the firm publicly admitted it had run into financial difficulties.
In a statement, the administrator said "it has been necessary to make a number of staff redundant as of 9 November".
The statement said that the cancellation of contracts had led to the staff reduction.
"Following the company's recent trading difficulties, a number of the company's contracts were terminated by customers and the reduced level of activity in the business has directly impacted the level of staff required", the administrator said.
"The administrator will continue to review employment in the context of workload and the financial condition of the company and will keep employees informed."
The number of job losses was not given but workers said they were estimating between 180 and 200.
One worker told the BBC on Friday that workers were being told in groups of 25 that they were being made redundant.
Another said up to 200 staff are expected to be told they have been laid off, while a different worker said 180.
Currently, 320 staff are employed in Patton's construction business.
Northern Ireland First Minister Peter Robinson has said redundancies seem inevitable at the company.
Mr Robinson was speaking after a business breakfast in Craigavon.
Some of those listening to him were sub-contractors to the Patton Group and they raised their concerns about the knock-on effect that the building firm's apparent collapse would have on their businesses.
The administrator has said possible options for the future included the sale of all or parts of the company.
The family-run firm has been in business in Northern Ireland for the past 100 years.
There are concerns about the impact of the company's difficulties on the wider Northern Ireland economy.
There are fears of job losses among suppliers and subcontractors.
One company that spoke to the BBC said it was owed almost £1m from the firm.
Patsy McGlone MLA, chair of the committee for enterprise, trade and investment, said a number of companies had been in touch with him to voice their concerns.
"Some of these local companies are owed substantial amounts of money and not getting paid could tip them over the edge."