Referendum poll on child rights in Irish Republic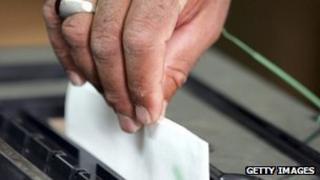 Voters in the Irish Republic go to the polls on Saturday to decide whether or not children should be given express fundamental rights in Ireland's Constitution.
The referendum has been promised by successive Irish government for over 20 years.
It follows a series of child protection failures.
Since 1970 there have been 17 major reports on child protection failings in the Republic.
Saturday's poll on the symbolic inclusion of children in the constitution also sets out the responsibilities of the Irish state in maintaining rights of children.
It allows the Irish state in exceptional circumstances to take the place of parents.
The new article also says the best interests of the child should be the paramount consideration in any legal proceedings.
One tangible change, if the referendum is passed, will take effect in the Irish Republic's adoption laws.
If the referendum is passed, married parents could consent to having their children placed for adoption.
Campaigners in favour of the referendum say it will recalibrate the focus of the Republic's child protection system.
The Yes side is supported by all of the country's political parties along with more than 100 children's advocacy groups.
Those asking for a No say it gives too much power to the state and social workers at the expense of families.
The constitutional referendum on children's rights is the Republic's tenth referendum in 11 years.
However, this is the first time that a referendum vote has taken place on a Saturday and means that no school in the Republic has had to close in order for voting to take place.
Counting of ballots will take place from 09:00 GMT on Sunday.
The results will be collated at the central count centre in Dublin Castle, where the referendum returning officer will declare the overall result.