Northern Ireland ministers leave on China mission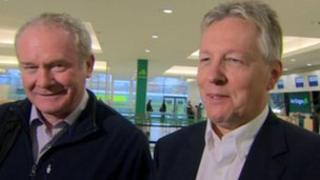 The first and deputy first ministers, Peter Robinson and Martin McGuinness, have left the country to lead a business delegation to China.
Representatives of 35 companies are accompanying them on the six-day visit to Shanghai and Hong Kong.
It aims to promote trade, investment and tourism, and encourage research partnerships.
Mr Robinson said no small economy could afford to miss out on the opportunities existing in China.
"China is one of the fastest-growing economies in the world. We are talking about a population of 1.4bn people," the first minister said.
'Encourage'
"We already have some presence in China.
"This is an opportunity for the trade delegation to try to increase that presence and indeed, to encourage the kind of co-operation and partnership that China often requires in order to do business."
Mr McGuinness said the mission was hoping to build "on the very successful visit from one of the Chinese leaders, Madame Lui Yandong, when she arrived here earlier this year".
"It was a very successful trip from their perspective and there's obviously tremendous interest in what's happening on the island of Ireland because prior to that, the incoming president arrived in Dublin and both Peter and I were invited to meet with him in Dublin," he said.
"This is about recognising that the Chinese economy is a powerhouse in the world and will probably be the strongest economy in the world in 2016.
"It is very, very important that we continue to build links with such an economy."
The ministers will be joined by the Northern Ireland Enterprise Minister Arlene Foster and the Agriculture Minister Michelle O'Neill following their respective visits to Shanghai and Beijing for business and agricultural meetings.