MPs bid to delay fuel rise fails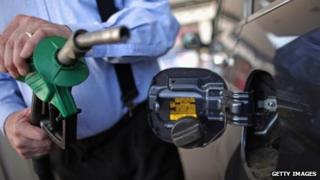 An attempt by Labour to delay an increase in fuel duty, which was supported by politicians from Northern Ireland, has failed.
Using a motion in the House of Commons the Labour Party wanted to delay an increase in fuel duty of 3p a litre planned for January.
Their motion was defeated in Westminster by a government majority of 48 on Monday.
Labour had specifically wanted to delay the rise until at least April 2013.
The Shadow Secretary of State for Northern Ireland Vernon Coaker said: "It would be wrong to go ahead with another tax rise which would hit people hard when they are worried about family finances or the future of their business."
It was an argument which was supported by the DUP, who voted with Labour against the duty rise.
The party's deputy leader Nigel Dodds said the planned tax increase could cut economic growth.
He said Northern Ireland would be hit hard by the duty increase and he said fuel prices in Northern Ireland were "the highest in the UK".
The North Belfast MP also said it would be the vulnerable who would be "the hardest hit".
'Difficult times'
He told the BBC his party "would continue to fight this increase". He said he was encouraged that the "pressure is beginning to get through to the Treasury".
The SDLP's three MPs voted with Labour against the planned increase.
The South Down MP Margaret Ritchie told the BBC that her party wanted a freeze on duty.
She was particularly concerned about people in rural areas who have to rely heavily on travelling by car.
She wanted a freeze because she claimed: "It would help hard pressed families at a time when they are facing difficult economic times."
The North Down MP Lady Hermon voted to oppose the rise in duty.
Speaking to the BBC she said that she was "really weary listening to the government telling us how much they are doing to help families".
She said if the government were listening they would have "announced the 3p cut in fuel duty tonight".
The independent MP also added that she thought the coalition government "didn't appear to care".
The duty increase was originally to be introduced last August, but in June the Chancellor George Osborne announced he was postponing it for five months, saying it was being funded by what he called "larger-than-forecast savings in departmental budgets".
The Treasury said fuel was currently 10p cheaper than it would have been if the earlier increases in duty had not been postponed.