Former Ireland rugby player David Tweed on trial for child abuse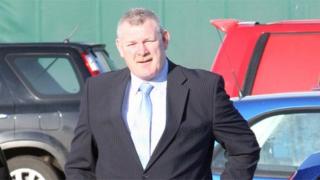 A former Ireland rugby international has appeared in court in Antrim charged with indecently assaulting a child.
David Tweed played for Ireland and Ulster. He is a Traditional Unionist Voice (TUV) councillor in Ballymena.
He is accused of abusing a girl, who is now an adult, on a number of occasions over a nine year period.
The case has been ongoing but there were reporting restrictions until Tuesday.
At the trial in Antrim Crown Court, the woman was cross-examined by the defence counsel.
She told the court that she made an original complaint at Coleraine police station in 2007.
When the judge sought clarification and asked if there had been a detailed and extensive search for such a record he was told there had been and no record was found.
The alleged victim, known only as X, was asked by defence counsel why she didn't mention the alleged abuse in a statement to police in 2007.
She said she was worried how her future husband might react.
She added that she also did not want her family and friends to know.
The alleged victim said that she only decided to bring the case after months of counselling. Her cross examination is now over.
The trial continues.