Frank McCoubrey joining the DUP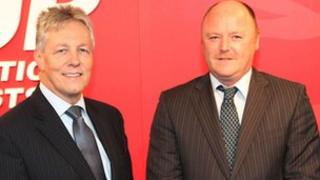 A Belfast councillor who was once a member of a party with links to loyalist paramilitaries has joined the Democratic Unionist Party.
DUP leader Peter Robinson said Frank McCoubrey would be "a very valuable addition."
Mr McCoubrey, a former deputy Lord Mayor of Belfast, was first elected to the council in 1997 as a member of the then Ulster Democratic Party.
He later became a member of the UDA-linked Ulster Political Research Group.
But in recent years he has sat as an independent although he took the Ulster Unionist Party whip
In 2000, Mr McCoubrey was involved in controversy when he attended a rally at which loyalist gunmen fired shots.
Mr McCoubrey said at the time that he had no idea it was going to happen.
He said he was joining the DUP because of its record in highlighting and tackling problems in deprived areas.
DUP leader Peter Robinson said: "Frank is a very well-known representative in the greater Shankill area and he has worked very closely with the party in tackling issues which affect people living in that area."
Mr McCoubrey said he was looking forward to working "as part of a strong Democratic Unionist team, with colleagues at Europe, Westminster, the Assembly and in local councils to deliver for the needs of people living in some of the most deprived areas of our society."