Sandy Row Boxing Club not eligible for funding says Ní Chuilín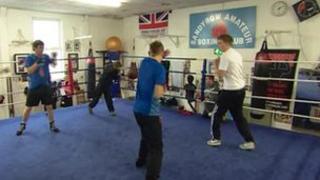 Boxing clubs in Northern Ireland must be affiliated with a recognised body to be eligible for government funding, Sport Minister Carál Ní Chuilín has told the assembly.
The minister had told MLAs on Monday that the mainly Protestant Sandy Row Boxing Club in south Belfast could express an interest in accessing funding under a new scheme.
But on Tuesday, she said while the club had been a member of the Irish Amateur Boxing Association in the last three years, it was not currently a member.
Ulster Unionist sport spokesman Michael McGimpsey said the minister's approach to the club was "bringing her office into disrepute".
"Yesterday in the assembly, the minister said that Sandy Row Boxing Club was eligible for funding," he said.
"Today in the assembly she said that it is not. What is she going to say tomorrow?
"Is the minister not properly briefed or has she simply forgotten what she said yesterday?
"With this track record we can have little confidence in anything she says."
His comments came a day after assembly members voted to support the establishment of a Northern Ireland amateur boxing association.
Currently, boxers from Northern Ireland compete in the Irish Amateur Boxing Association and cannot compete for the UK at international level.
The vote was taken after the TUV proposed an amendment to a DUP debate on the allocation of funding to clubs in Protestant and Catholic communities.
It follows claims of sectarianism by Sandy Row Boxing Club, which said its members were subjected to a decade of "chronic sectarianism" while boxing in nationalist areas.
Ms Ní Chuilín had told the assembly debate on Tuesday that everyone has "a duty to confront sectarianism".